Pfaff Icon Techniques Tablerunner:
This training project is designed to inspire your creativity while helping you get more proficient with many of Pfaff's exclusive techniques. Applique Creator, Stitch Creator, Single Stitch programs will all be taught; specialty foot options include yarn counching, pintuck w/decorative guide, candlewicking, bi-level topstitch, special techniques include single, double and triple ribbon stitches, radiant and floating stitches. Detailed instructions with video will enable you to complete this exquisite tablerunner from the comfort of your own home. Kit includes all fabric, ribbon/embellishments, batting and is customizeable in size up to 15" wide and 54" long without optional borders.
Kit with detailed instructions and embroidery files: $ 115
Pattern & embroidery files: $25
Kit Only: $90
Janet's Perfect Table Runner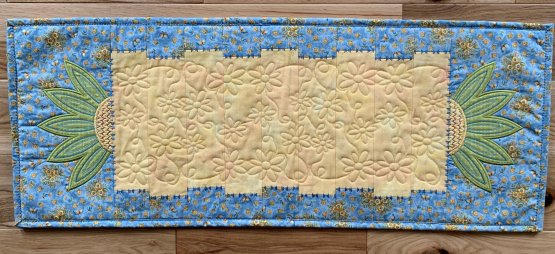 Janet's Fall Tablerunner
This project was created to help Pfaff enthusiasts get more comfortable and proficient with some of the programs and special techniques of the Creative Icon. You will first create the embroidery using the Applique Creator program, piece the project using floating stitches joined, quilt the project using edge to edge design or Kimberbell's clear blue tiles and precise positioning, and bind the project with a stitch created in the Stitch Creator program. Step by step illustrated instructions included as well as a variety of different colorways. This fun, contagious project was inspired by a dear customer of mine, Janet Ver Hage who lost a courageous battle with breast cancer. For every kit purchased from my website, I will donate $5 towards breast cancer research.